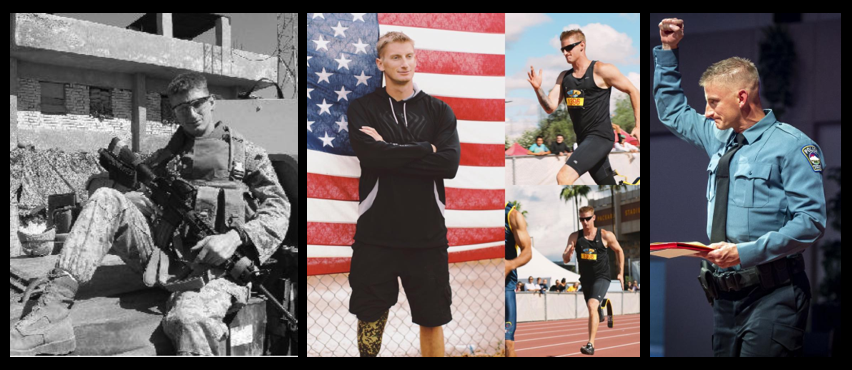 Ben Lunak enlisted in the Marine Corps in 2004 and deployed to Ramadi, Iraq in 2005 as a member of 3rd Battalion, 7th Marine Regiment.  In February of 2006 Ben was wounded while on a mounted patrol in an IED attack and lost the lower part of his right leg.  In the aftermath of being wounded, Ben dealt with his amputation, the survivor guilt he felt for a last minute seating change in the HMMWV he was riding in that spared his life and caused the death of his closest friend, the death of his father, the loss of his dream to be a law enforcement officer and alcohol abuse.
Ben's perseverance and determination since his wounding in 2006 paid off recently when he became a police officer.  He is a walking, breathing and living example of what we call "Post-Traumatic Winning" here on ALL MARINE RADIO.  In his interview you'll hear him discussing taking steps every day to make his dream real.  A college degree, a credit score, entrance exams, interviews all had to be conquered — and slowly but surely he's done it.
Ben Lunak has re-dedicated his life to his family and to his Marine Battle Buddies who lost their lives. He has found purpose in his pain and come through it a better man — his interview is well worth your listening time.
Podcast: Play in new window | Download