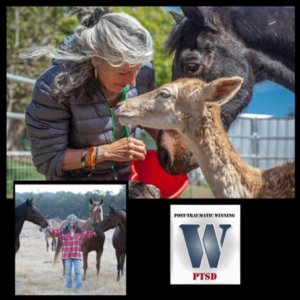 Suzi Landolphi is a Senior PATHH (Progressive and Alternative Training for Healing Heroes) Guide, equine therapist and is a licensed marriage & family therapist in Virginia and California. Suzi became the fourth member of the Virginia Boulder Crest Retreat staff to appear on ALL MARINE RADIO and her interview is off the hook!  Suzi explains how horses support the training and learning that goes on when veterans and families participate in weeklong programs designed to provide the practices that warriors and family members need to live the lives that they want to live.
In the interview, Suzi does an incredible job emphasizing the following:
You're not broken and you don't have a "disability."  You are a warrior and have incredible skills, discipline, courage and leadership abilities.
You need "training" to deal with the aftermath of war — that training will yield "practices" that you'll rely to navigate life as you learn to coexist with trauma, just as you relied on your tactical training to navigate the dangers of the battlefield.
You need to "connect" with those around you, and stop worrying about "controlling" them.

You need to understand that the struggle does not come just from the aftermath of war, it's also comprised of what happened to each of us before our military experiences and THAT training is our most influential training, good and bad.
An incredible and insightful discussion with a wonderful professional who cares deeply about the mental health of combat veterans and their families.
Podcast: Play in new window | Download