Curt "F18-man" Knowles told me that I needed to have his niece, Peyton Davis, on the program.  I said "ok" (he's a Battle Buddy so I can't refuse) and then asked him "why"?  He answered that she's an incredible person, a country music artist who wants to do a USO Tour and lives with the trauma associated with her father's suicide. Nuff said.
Peyton Davis is an figure skater, swimmer, bowler, JROTC MSgt (Army type) who shot on her unit's shooting team, a classically trained singer and now a country music artist.  She joined ALL MARINE RADIO to discuss her journey through trauma and how she's learned to co-exist with it.
At the end of the interview you'll hear Peyton's single "Hurt" that you can find on YouTube YouTube and purchase at Google, Amazon and iTunes.
As you listen to the interview, I hope that you're struck by how many people are affected by trauma in their lives and what an incredible opportunity that Veterans have to give back once they learn to coexist with it.  So start learning.
Below are some "fun facts" about Peyton Davis: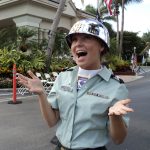 Peyton's music is available for purchase on the iTunes Store or for streaming on Apple Music or Spotify
Peyton was a competitive figure skater in the US Figure Skating Association
Peyton's single, "Nowhere America" aired on Country radio, accompanied by a 3 month summer radio tour across the country
Luke Bryan's drummer Kent Slucher and bass player James Cook played on all of Peyton's Country Road album
Peyton is releasing a new single this year, produced by James Cook (Luke Bryan's bass player)
Peyton rose to Master Sergeant in JROTC and competed on the marksmanship team
Peyton is a classically trained vocalist and can sing in 5 languages
Peyton was a competitive swimmer for USA Swimming
Peyton graduated high school with not only her diploma, but was dual enrolled and received her Associates of Arts (AA) degree at the same time.
Peyton graduated college from The University of Texas at Austin – HOOK 'EM HORNS!
Social media outlets 
Instagram: @peytondavismusic
Twitter: @_peytondavis_
Podcast: Play in new window | Download