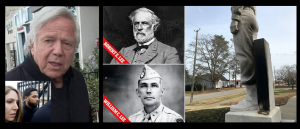 TODAY'S TOPICS:
Bob Kraft got caught in a massage parlor prostitution event?
What are famous people being so stupid this week?
Vandals set fire to a statue of General Lee – BUT IT WAS THE WRONG "GENERAL LEE" —  it was World War II General William C. Lee.  ARE YOU KIDDING ME?
Podcast: Play in new window | Download