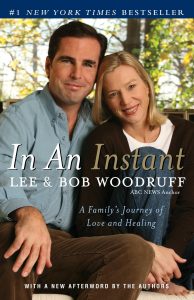 Bob Woodruff left college at Colgate University and became a lawyer.  His career took him to Beijing after he was married and it was there that he became involved in the coverage of the Tiananmen Square confrontation between the Chinese government and dissidents.  That changed culminated in his rise to be one of the co-anchors of ABC's "World News Tonight" succeeding Peter Jennings in 2005.
Bob met Mike Musselman when he was embedded with the 1st LAR Battalion for the March Up in the spring of 2003, Mike was the Battalion Gunner of 1st LAR.  Bob returned to cover the war in Iraq in 2006 and was working in the US Army's 4th Infantry Division's area of operations when an IED detonated adjacent to the HMMWV he was riding in, sending shrapnel into the left side of his head and brain. A year after sustaining his injuries Woodruff would return to television in appearances on ABC's "Good Morning America" and "ABC News with Charles Gibson."
After co-authoring a book with his wife Lee (In An Instant) , Bob, Lee and their family created the Bob Woodruff Foundation, a nonprofit dedicated to ensuring that post-9/11 injured service members, veterans, and their families thrive long after they return home.
Bob joined ALL MARINE RADIO to talk about his career, his injuries and his road to recovery and the special role that his wife Lee had in all of that.
Podcast: Play in new window | Download